Back to previous page
IV Moscow Side by Side LGBT Film Festival, 23 Ц 26 April, 2015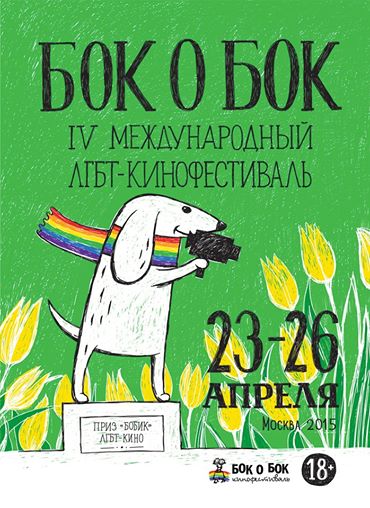 Side by Side LGBT Film Festival is set to start next week in Moscow, running four days from 23 Ц 26 April, 2015.
The festival is taking place in Moscow for the fourth year running and this year the Moscow audience will have the opportunity to see over 20 films, including winners, not only from Sundance, Cannes and the Berlinale but those films that received the BOBIK Award, from the VII Side by Side in Saint Petersburg, November, 2014.
Two films that were put forward as Oscar contenders are in the programme this year - the feel good Brazilian feature The Way He Looks (2014) by Daniel Ribeiro which will open the festival and The Circle (2014) by Swiss director Stefan Haupt which uses an imaginative mix of fiction and documentary to tell the story of the very beginnings of the LGBT movement in Switzerland.
Winning the BOBIK Award for Best Documentary as well as the BOBIK Press Jury Award the hard hitting and upfront documentary, Julia, is one not to miss. Noted for its "shocking for sincerity" by the jury the film depicts the fate of transsexual Julia, who moved from Lithuania to Berlin, to work as a prostitute.
Feminism and LGBT. Is there common ground? Ц this is a question that will be explored following the fast-paced and entertaining documentary Battle of the Sexes (James Erskine and Zara Hayes, UK, 2013) which relives the historic tennis match between multiple Grand Slam Billie Jean King and notorious sexist Bobby Riggs.
Take the chance to ask your questions to director, Ester Martin Bergsmark, of the highly acclaimed film Something Must Break (Sweden, 2013) and producer and scriptwriter, Matthew Cormack, of 52 Tuesdays (Australia, 2013). Both films address the transgender issue and challenge our view on gender identity, pushing boundaries in our perceptions and understanding.
And finally to coincide with the publication of our anthology of LGBT Comics, How Much Queer Work, there will be the opportunity for visitors to take part in several workshops led by the German comic illustrator Elke.R. Steiner, who will be exploring the theme of identity. The event will take place at DoDo bookshop.
TICKETS: 300 rubles, 250 rubles for students, pensioners and physically challenged persons
FESTIVAL SCHEDULE: WHERE and WHEN?
FIND US IN:
†
---